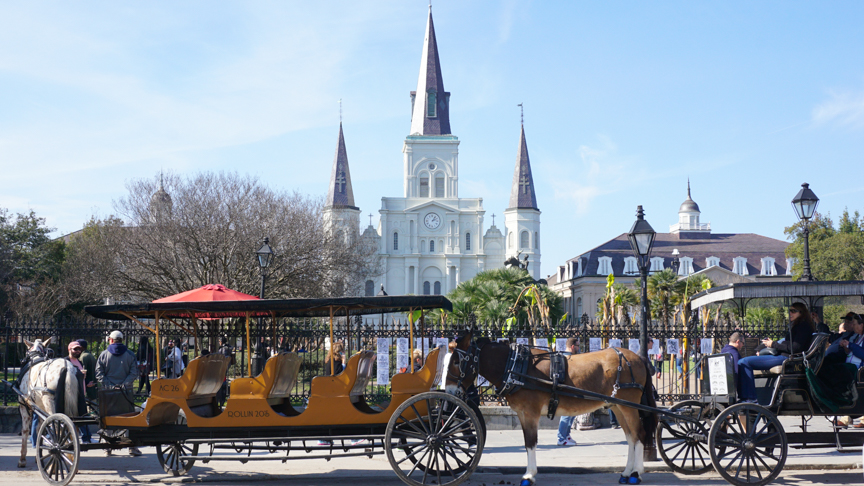 BEST OF NEW ORLEANS
New Orleans aka the "Big Easy" is known for it's nightlife, vibrant live music scene and of course amazing food! I have no idea why it's named the Big Easy but if you know please tell me!
If you're planning to visit New Orleans, a visit during Mardi Gras can be one of the best experiences. It usually begins in February and last for two weeks before Ash Wednesday. Since it can get pricey to visit during this time, my girlfriends and I visited two weeks before. It was the perfect time to visit as everyone was starting to get into the spirit with plenty of Mardi Gras decoration and the weather was in the high 70s! I've compiled a list of the best of New Orleans for your next visit!
WHERE TO STAY
The best hotel located in the French Quarter right on Bourbon Street is the Royal Sonesta New Orleans. A beautiful luxury hotel in the heart of New Orleans makes it the perfect accommodation. The hotel also has concierge to help with booking restaurants and tours.
WHAT TO DO
Explore the French Quarter & Bourbon St: The street was always lively even at 9am! There are dozens of great restaurants and bars to choose from. Don't forget to order some yard sticks and catch necklaces from people on the balconies!
Find cute colorful buildings: I loved the colorful buildings everywhere we went! We found the best homes in the French Quarter and the Garden District. Check out This Darling World's post on  New Orleans Color Lovers Guide!





Visit Jackson Square: Jackson Square is a historic park in the French Quarter. Walk around this are to find live music and street art.
Visit a Cemetery: Only in New Orleans could cemeteries be major tourist attractions. They even have daily walking tours. There are dozens of cemeteries throughout the city, but we visited the Lafayette Cemetery which is also very popular in movie scenes.
Swamp Tour: We did not have time to do a swamp tour but if you do, I highly suggest going on one! You may just see a few alligators! This tour can take up to 4 hours.
Oak Alley Plantation: The Oak Alley Plantation is a historic plantation located west of the Mississippi River. This beautiful plantation is worth a visit and can take up to 6 hours.
Watch live music: Can't leave New Orleans without listening to some live jazz music! The Jazz Playhouse at the Royal Sonesta has nightly shows starting at 8pm.
WHAT TO EAT
Here's a quick list of the best food in New Orleans below but make sure to check out my post on Where to eat in New Orleans for more recommendations!
Beignets at Cafe du Monde and Cafe Beignet (serves strawberries).
Commander's Palace – 1403 Washington Ave – Commander's is one of the most popular restaurants in town so make sure to make reservations.
Acme Oyster House – 724 Iberville St – Go here for the best and freshest oysters and seafood!
Sucre – Multiple Locations – Macarons, dessert and the prettiest King Cake (only around Mardi Gras)


Oceana Grill – 739 Conti St – Try alligator & a po boy sandwich! They sell it at many seafood and cajon restaurants but Oceana Grill was our favorite!


Willie Mae's – 2401 St Ann St – Best fried chicken!
New Orleans was a great girls trip with so much fun and exciting things to do! I can't wait to go back and eat our way through New Orleans!
Shop Now
Have you visited New Orleans? Comment below on your favorite things to do!